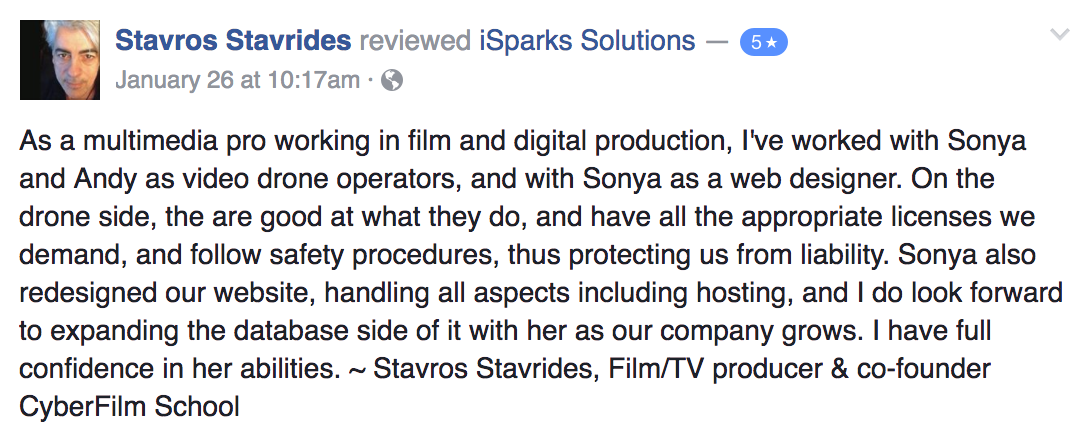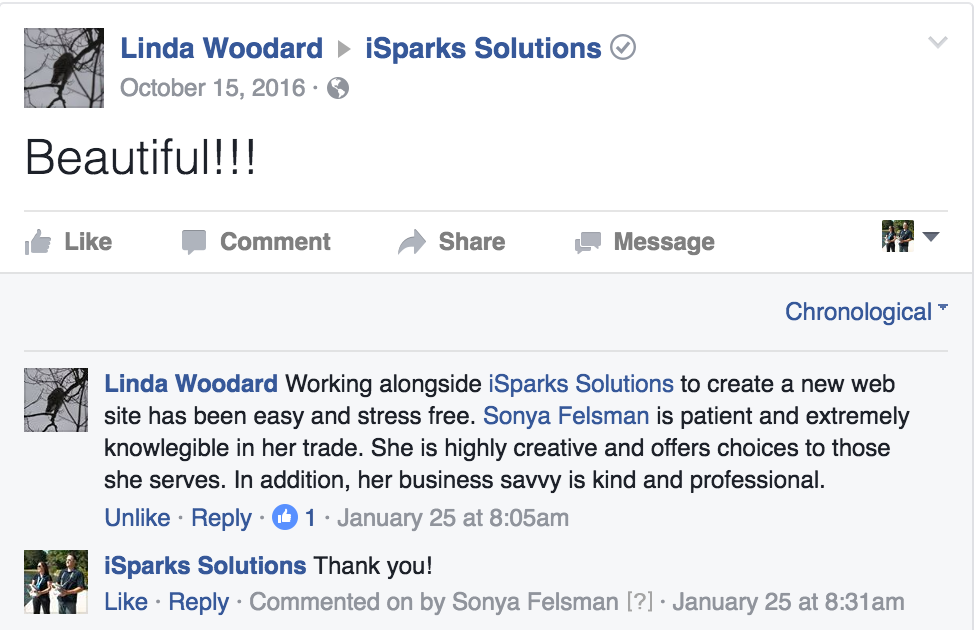 See what our clients have had to say about us….
"Thanks so much for your time, your expertise, availability and knowledge of your drone services – made his birthday one to remember! By far his best present ever. It's the gift that keeps on giving" L.C.
"I have met Sonya and Andy several times over the past few years as their businesses, iSparks Solutions, (drones and computer specialists) and Sky Ring Media (Aerial Photography and Cinematography), mesh well with the portion of our business that focuses on quality photography of high end custom homes and cottages." J.B.
"Client loves the video, let's sell this property" J.T.
"Video is amazing! You guys are rockstars" S.S.
"Sonya..great work! I love the fresh new look the website offers! Easy to read, surf, etc. I know a lot of people and will pass your name on …… I'm impressed not only with the website but the price is right too!" T.C.
"Our website looks great thanks to you!! Your awesome we will get you to do another website for us too." N.K.
"Sonya and Andy Felsman created a spectacular video of our home inside and outside using their drone. They published the video all over the internet; Linkedin, Facebook, Instagram, YouTube, Pinterest, Reddit, Vimeo, and more. Because of them, our home got so much attention it might just sell." J. C.
"We hired iSparks Solutions to take some aerial photos of homes for sale in our area that would have otherwise been impossible to capture and they did it perfectly, within the same day I had the photos……houses all had conditional offers 'sold' by Friday. – Amazing!!!!! J.B.
"Truly a gifted team, Andy and Sonya are a perfect combination of talent, natural gifts and skills." M.J.
"We had iSparks Solutions come and take several pictures of our home for us; and the house sold within a couple of weeks." M. S.
"I just had a very informative and helpful morning with Sonya Felsman at iSparks Solutions. Amazing!" D. K.
"iSparks Solutions did a few promotional videos for our company and we showed them at a Home and Cottage Show. We had so many people around our booth watching them it caused a traffic jam, great work!!!" G.L.
"My brilliant bestie just took the leap, check out her new business and seriously, if you need assistance with your business systems or media, contact her! There is no one more dedicated, intelligent and creative than my gal" G. S.
"Sonya has clearly demonstrated professionalism, intelligence, drive, and student-client centeredness.
She is fully capable of meeting deadlines with proficiency and resourcefulness. She has excellent communication skills, time management skills, and leadership skills that persist in the face of obstacles." N. Nizar, Instructor at Langara College.
"Sonya has demonstrated excellent teaching competence. She establishes rapport with adult students
very quickly. Her sense of humour sparks students. People like working with her." – B. Mullen, Mentor, Instructor and Senior Project Manager
"I found her to be dedicated, reliable and the quality of work was consistently exemplary. Sonya's student evaluations were always positive and often expressed appreciation for her enthusiasm and skill as an instructor." – P. Cruikshank, Langara College Program Coordinator
"Sonya was great! Very calm, relaxed, friendly, patient, knowledgeable and easy to approach." – Langara College student evaluation
"Great course and especially instructor's skills and patience." – Langara College student evaluation
"Instructor took a lot of my fear out of learning computers. She is very enthusiastic and understanding of novice learners'. I would highly recommend this class." – Langara College student evaluation
"I am very pleased with how Sonya is handling my profile. Sonya's professionalism, efficiency and detailed approach is refreshing. She takes her time to get to know you and she understands the business and is respectful of her client and the potential candidate." – D. Guarnori, Senior Business Analyst
"Over the past five years I have relied heavily on Sonya's industry knowledge and recruiting skills to
motivate and lead me towards my past three jobs of which I owe it to her for my placement success."
– J. Pargiter, Java Developer